Uncategorized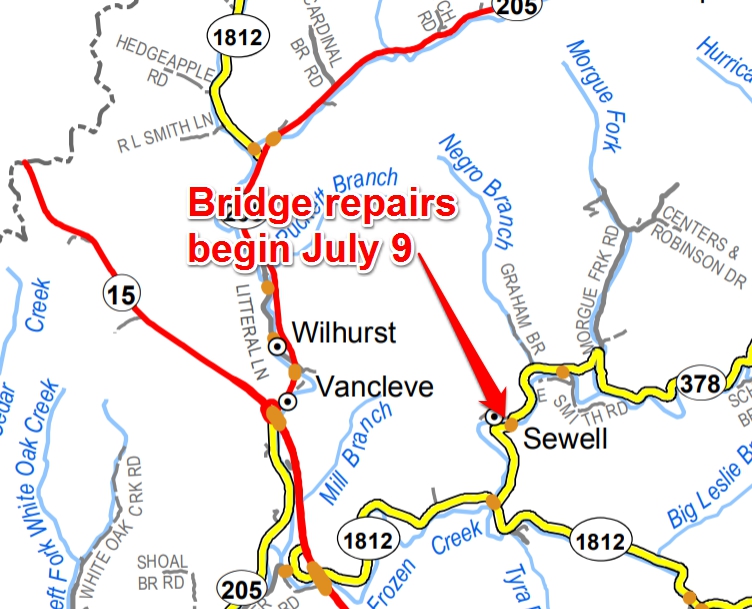 Bridge replacement project to begin on KY 378 in Breathitt County
JACKSON, KY – Work is scheduled to begin Tuesday, July 9, to replace a bridge on KY 378 in Breathitt County as part of the Bridging Kentucky program. The bridge crosses Frozen Creek and is located approximately 0.7 miles from KY 1812, in the Sewell community.
During construction, traffic will be maintained in one lane, controlled by temporary signals. Drivers may experience delays during the project. Fewer than 300 vehicles use this bridge each day. This bridge has a weight limit of 10 tons, a sufficiency rating of 24.5, and is classified as structurally deficient.
Work is expected to take three to four months to complete.
This bridge is part of the Transportation Cabinet's Bridging Kentucky program. Bridges selected for the program include more than 1,000 state, county, and municipal structures that are rated in poor condition or have restricted weight limits. Each bridge addressed by the program will either be replaced with a new structure designed to last at least 75 years, or rehabilitated to extend its life by at least 30 years. Those with restricted weight limits will reopen to school buses, emergency vehicles, and commercial trucks. For more information on the Bridging Kentucky program, visit www.BridgingKentucky.com.
####