45-Day closure for construction of New West Fork Lewis Creek Branch Bridge
MADISONVILLE, Ky. (Sept. 9, 2019) — A contractor for the Kentucky Transportation Cabinet plans to close a section of KY 85 in Ohio County starting Wednesday, September 11, 2019.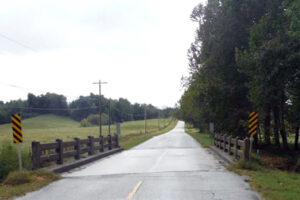 KY 85 will be closed at Ohio County mile point 9.627 to allow replacement of the West Fork Lewis Creek Branch Bridge. This is along KY 85 between KY 69 and U.S. 62 in western Ohio County, about 1.6 miles north of the U.S. 62 intersection. This closure is expected to be in place for up to 45 days.
There will be a marked detour via KY 69, U.S. 231, and U.S. 62.
Cambry Contracting is the prime contractor on this $1,895,467 group bridge replacement project that includes work on two other bridges to be scheduled at a later date. The target completion date for this bridge project on KY 85 in western Ohio County is October 30, 2019.
This project replaces a timber piling bridge that was constructed in the late-1960s that has previously been posted with a 22-ton load limit.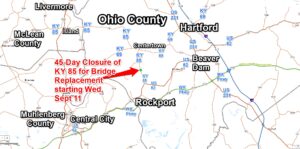 This project is part of the Bridging Kentucky Program that seeks to replace or rehabilitate 1,000 critical bridges over about six years. For more information go to www.bridgingkentucky.com.
Timely traffic advisories and alerts are available at www.facebook.com/kytcdistrict2. You do not have to be a Facebook member to access this page.
Navigate traffic at goky.ky.gov, at waze.com, or with the WAZE App.