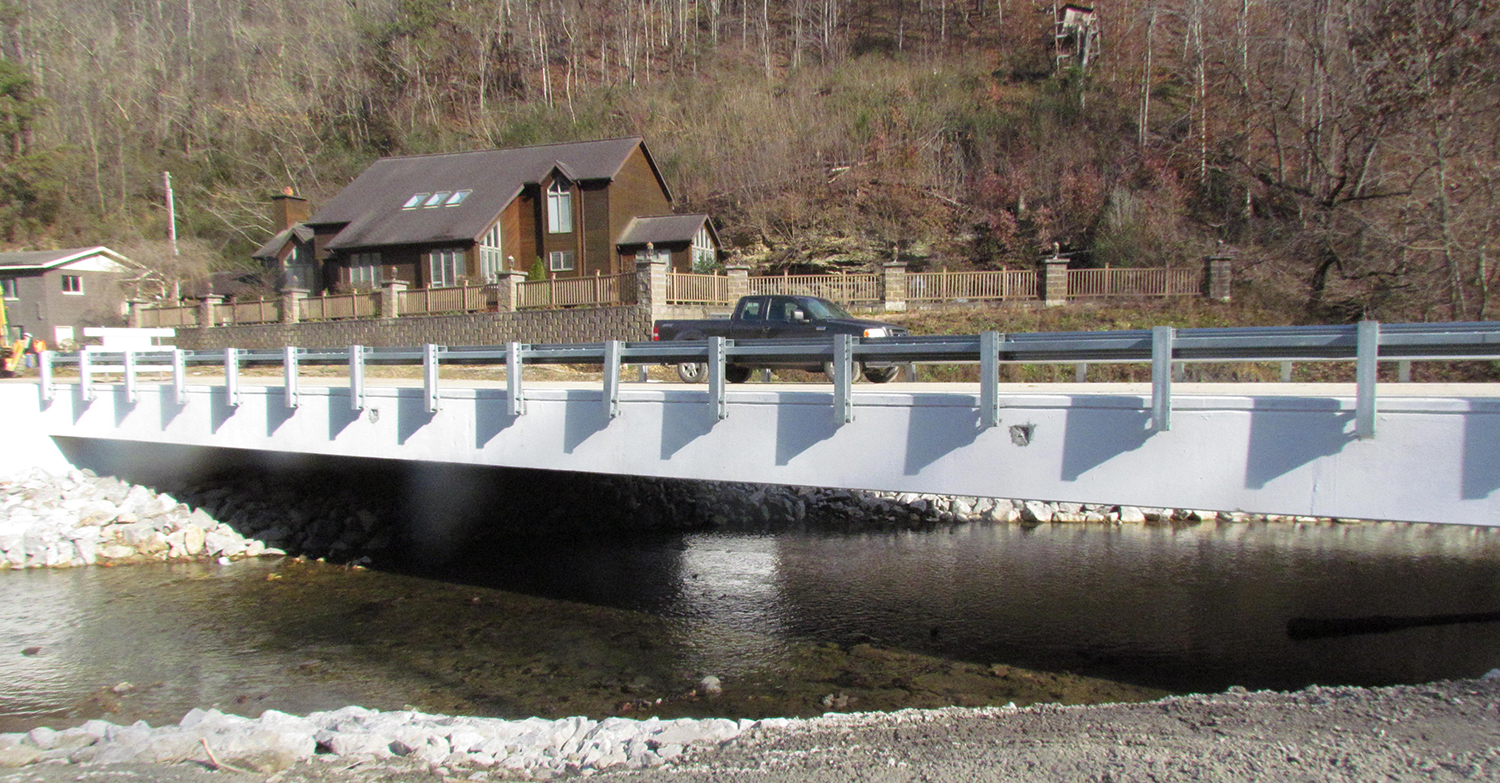 Contractor meets completion date commitment
PIKE COUNTY, Ky. (Nov. 27, 2018) – The bridge on KY 610 in Pike County between KY 1469 (Penny Road) and Save-A-Lot grocery store will open to traffic on or before this Friday, November 30.
Highway District 12 Engineer Vince Hayes said that the bridge had a complete makeover, including new beams. The amount of the contract was $832,617.02.
Rehabilitation work on the structure began on August 13, at which time the contractor, Bush & Burchett of Allen, Floyd County, committed to the November 30 completion date.
"The only thing left to do is install guardrail, which shouldn't take even a whole day," Hayes said on Monday (November 26). "The barriers will be removed and the bridge opened to traffic as soon as that is done."
This is among the first bridge rehab projects completed as part of the Kentucky Transportation Cabinet's Bridging Kentucky initiative. Bridging Kentucky includes more than 1,000 state, county, and municipal structures that are rated in poor condition or have restricted weight limits. More than 70 of the bridges on the list are currently closed to traffic.
Each bridge will be addressed in the next six years, either replaced with a new structure designed to last at least 75 years or rehabilitated to extend its life by at least 30 years. Those with restricted weight limits will reopen to school buses, emergency vehicles, commercial trucks, as well as passenger vehicles.
The initial focus is on 340 bridges identified by the Kentucky General Assembly in the current two-year transportation budget.
The full list of bridges is available on the program website, BridgingKentucky.com, and it currently includes more than 1,000 structures that will be addressed over the next six years. About 40 percent of the bridges will be rehabilitated to extend their life by at least 30 years. Approximately 60 percent of the projects will be new bridges that will last at least 75 years. Nearly three dozen bridges are either already in the construction phase or ready to be put out for bids, and KYTC has plans to prepare more than 400 bridges for construction by the end of 2019.
"This is an aggressive program, and we are using new and innovative approaches to get the work done in a timely and cost-effective way," said Royce Meredith, KYTC's Bridging Kentucky Program Manager.
Learn more about the program
In addition to this program website, Bridging Kentucky has launched these social media channels to share additional information about the program:
Facebook: facebook.com/BridgingKentucky
Twitter: twitter.com/BridgingKY
Instagram: instagram.com/BridgingKY