MANCHESTER, Ky. (Oct. 9, 2019) – The Kentucky Transportation Cabinet (KYTC) District 11 Office advises motorists that a bridge rehab project on KY 1601 (mile point 1.984) in Harlan County is set to begin Thursday, Oct. 10 at 8 a.m. and is expected to conclude on Wednesday, Dec. 4 at 6 p.m.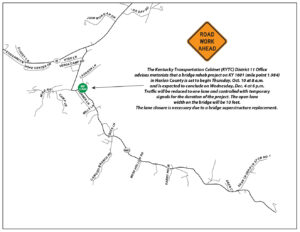 Traffic will be reduced to one lane and controlled with temporary signals for the duration of the project. The open lane width on the bridge will be 10 feet.
The lane closure is necessary due to a bridge superstructure replacement.
This bridge is part of the Transportation Cabinet's Bridging Kentucky program. Bridges selected for the program include more than 1,000 state, county, and municipal structures that are rated in poor condition or have restricted weight limits. Each bridge addressed by the program will either be replaced with a new structure designed to last at least 75 years or rehabilitated to extend its life by at least 30 years. Those with restricted weight limits will reopen to school buses, emergency vehicles, and commercial trucks. For more information on the Bridging Kentucky program, visit www.BridgingKentucky.com.
The Kentucky Transportation Cabinet asks motorists to be aware of the work zone, expect delays, and to utilize safe driving habits when traveling through the area.
The date and time could be adjusted if inclement weather or other unforeseen delays occur. Motorists can access travel and traffic conditions at http://goky.ky.gov or contribute their reports at www.waze.com or via the Waze mobile application. You can also get traffic information for District 11 counties at www.facebook.com/KYTCDistrict11 or by following us on Twitter at www.twitter.com/KYTCDistrict11.
For more information contact:
Contact: Les Dixon
606-598-2145 (office)
606-682-2799 (cell)
Les.Dixon@ky.gov