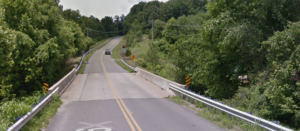 BOWLING GREEN, Ky. (Feb. 12, 2019) – The KY 496 bridge over Oil Well Branch in Metcalfe County has been reopened following an extensive closure which began on January 24. The detour has been taken down and motorists can use the bridge. The closure was necessary as a new bridge deck was poured and other repairs were made as part of the rehab project. The contractor will still be working on other parts of the bridge so motorists can expect to see crews onsite working on the project.
Scott & Murphy Inc. was awarded the contract on December 13 in the amount of $129,475.17. The project is part of the Bridging Kentucky Program.
The Bridging Kentucky Program is a transformational commitment to improve safety and soundness across the Commonwealth. KYTC will rehabilitate, repair, or replace more than 1,000 critical structures in all 120 Kentucky counties over the next six years. The program will reopen closed bridges, remove weight restrictions that prevent use by school buses, emergency vehicles and businesses, and improve access and mobility for all Kentuckians. For more about Bridging Kentucky please visit BridgingKentucky.com.